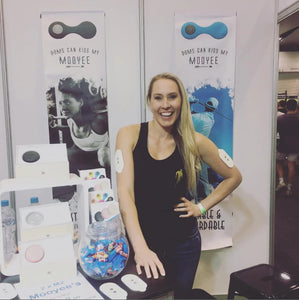 Hi and thank you for checking out the about Lili page; 'About Us' didn't make sense when there is just me!
I started the business back in 2016. I originally wanted a product that I could sell to sports people, being an industry that I was hightly involved in and loved. At that stage I was competing in fitness modelling and enjoying the atmosphere and the immense challenge that it brought both physically and mentally.
When I found Mooyee EMS (my first product) I travelled around Australia setting up stalls at fitness events. It was hard and lonely travelling so much but I was determined to make my own business.
When got married and fell pregnant with my second son I stopped travelling and focused on selling online. At that stage my focus with the business had moved to real physical issues and ailments. My clients were not who they started out as; and as I aged and felt the pains of sciatica, knee injuries, bursitis... my clients too became ME!
By the time my third son arrived I had decided to branch out and have my own brand and product. Learning so much about the benefits of TENS and EMS, I wanted to have a product that could have both of these so my clients could get the most out of their recovery. That is when the Comfee Power3 was born.
Knowing my clientelle, I also wanted something small and wireless PLUS a device for the feet. The Comfee Square was the perfect fit and has quickly become our best seller.
I have so many more ideas in the works for expanding the Comfee brand, going into pain tracking apps, bluetooth control, period pain devices and so much more... maybe holding off on anymore son's though :-)
Thanks for visiting my page, I hope your Comfee experience is a wonderful one.
Lili
Owner/CEO